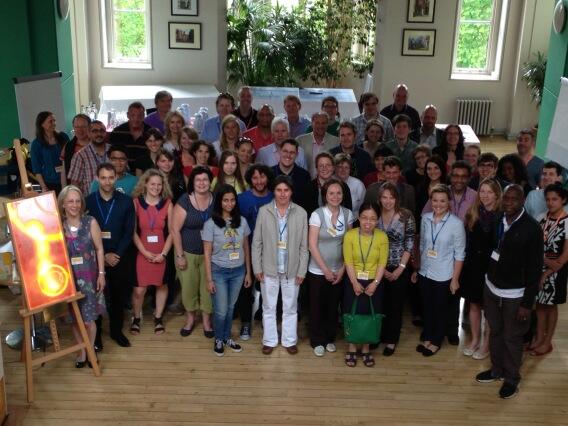 I'm just back from a fantastic course at the Judge Business School at the University of Cambridge.
The Weekend was linked to Social Incubator East, an intensive support programme for people with an ambition to set up or grow a business dedicated to making positive social impact.
I was there representing Good News Shared, along with Nisha Kotecha, its Founder. It was great to be back in Cambridge studying for the first time since I graduated more than 10 years ago. It reminded me just what a magical place it is and how lucky I was to be a student there. In fact, Dr Shai Vyakarnam, who taught on the Weekend, actually also taught me on a Entrepreneurship course back then too!
The other brilliant teachers on our Programme included Simon Stockley (whose MBA course was ranked third in the world by the Financial Times- plus he also does a mean impression of Wolverine), Peter Hiscocks and Simon Glenister of Noise Solution.
It would be impossible to accurately describe everything that happened on the Weekend in a single blog post, but to give a flavour of what we experienced:
– On the first evening, the Friday, we worked together to define what exactly is meant by a 'Social Venture'. I was pleased that the conclusion was that it is a pretty broad church, as my own view is that what matters most is the good you do in the world, not the legal definition of the organisation you work for. We then heard from a series of speakers who shared their diverse entrepreneurial journeys with us, while finishing the day off with some networking.
– On Saturday, we were first taught how to develop a better understanding of who our customers are. We were then taught about Market Research from an expert, Chris Lamaison, and we were introduced to the array of financial tools at our disposal to keep our enterprises on track. We were then given a masterclass in the art of pitching and spent the evening developing our pitches and our business proposal.
– On Sunday we had another early start (my own morning wasn't much helped by suddenly realizing my bus wasn't coming). We learned about the Business Model Canvas, which  I found extremely useful, and after several cups of restoring java, worked on our own models. A comprehensive look into Funding followed, with the opportunity to really pick apart how different sources of income have their own strengths and weaknesses. Finally, we did our  own pitching (Nisha presented our pitch) and got to hear the pitches of the other participants.
The Programme Director of Social Incubator East, Belinda Bell, the Deputy Director of the Centre for Entrepreneurial Learning at Cambridge, Jo Mills and the Chief Executive of Keystone Development Trust, Dr Neil Stott, supported us throughout the Weekend with words of both wisdom and encouragement. A network of facilitators and mentors helped to make sure that we didn't get too lost, either mentally or literally- Suzan Ziobro was particularly encouraging to us.
Some of the inspirational fellow course participants I met include Sam Dalton, who is looking to use PR for social good, Mark Stanyer, who is is an expert on self-esteem issues for young people and who wants to expand his work, Antony Quinn, who has some brilliant and forward-thinking ideas about changing education and John Harper, who is working on an app which supports mental health.
I was particularly struck by the range of ages, backgrounds and experiences of fellow course participants. It was a great pleasure to be able to tell more people about Good News Shared, and I hope that we will be able to keep in touch.
I'd like to say a public thank you to everyone who made the Social Venture Weekend possible. If you would like to learn more, the hashtag on Twitter  is #socvweekend. As someone who is a big advocate of social media for social good, it was great to see it in action.
I am excited to see what the future brings for us all.